This essay is excerpted from Dear America (March 2020) and was originally called "Titration." 
*
I. Dear American gun owner,
Several days have passed since the most recent mass shootings. I want to write to you, as a mother, a grandmother & a teacher, about your guns. I don't know you, but I know you aren't all white nationalists. Some of you hunt for your food. Some like marksmanship & shooting ranges. Some go to gun shows to admire the modern technology. Some of you are my relatives.
I've been trying to think about your fear of being without weapons, especially without AR-15s & AK-47s. I feel despair that you are unreachable. It is the lunging inarticulate despair of an adolescent trying to talk to parents when the parents can't hear. Your neighbors cannot reach you. These shootings numb your neighborhoods with sorrow, rage & depression while you remain unreachable. Part of the work is to keep the rage & sorrow alive, not to pursue comfort after these incidents. The country waits for there to be "enough"—as in high school chemistry where something was added drop by drop & the color suddenly changed from pale blue to orange, or orange to blue—titration, it was called.
I know you can't give up your weapons, but I'm asking you to support reasonable limits on their use.
The weeks after these shootings have a familiar pattern: news outlets describe the shooter; law enforcement searches for a "motive." The immediate motive behind such shootings is usually hatred of people's skin tone, hatred of religious differences, hatred of classmates, loose hatred in an unstable mind. But the motive behind the motive is gun profiteering. Behind the sense of safety & power your guns give you—& what manipulates you into rejecting commonsense limitations on weapons—is corporate money made at the expense of the safety of your children. You who hate government, have been made fools of.
Maybe you are a mild-mannered white woman in New Hampshire watching Fox News with a pistol in the oak chest. Perhaps you are in Kansas keeping a fast rifle as self-defense against intruders. Perhaps you're in Texas reading nationalist websites on your phone. Maybe you're a church-going father of three girls who believes the elites in New York are servants of Satan. Maybe you find military weapons aesthetically pleasing & sexy. Perhaps you are a grandmother who finds our current president's sociopathic messaging honest & refreshing after years of political vapidity. A friend in Frankfurt described how his grandmother was sexually attracted to Hitler & killed herself when Hitler died.
Where are your firearms made? Where are the factories? I believe some are in Virginia. I need to research this. When I get to Virginia, I will go with my friend to find the factories. How do workers endure the monotony of assembling assault rifles? Are they like any workers we know, waiting for the lunch break, & what do they have for lunch?
I know you can't give up your weapons, but I'm asking you to support reasonable limits on their use. I'm asking that you give up your commitment to fear. We all have things that are hard to give up. I once loved cigarettes. These things are hard to give up. I ask that you give up your fear of others & your love for these violent endings.
Sincerely, Brenda Hillman
*
II. Dear American who doesn't own a gun,
Several years ago, I wrote a poem about selling my father's old World War II pistol. I'd been teaching Dickinson's "My Life had stood, a Loaded gun," a poem about accessing poetic power as if it were a weapon. Dickinson's gun is of course not a physical object but a metaphor. I was meeting my brothers in Tucson to begin cleaning out the family house after our father's death. I had been asked for a poem about gun violence for an anthology. My poem has a flat reportorial style. My brothers & I were trying to get rid of the firearm our father had kept hidden since the 1940s, the mystique of which was dramatized by our lack of knowledge about where & why he kept it. My younger brother carried it gingerly away to a gun shop.
My father's family, of southern lineage, uses pellet guns, BB guns & hunting rifles; they hunt deer & other wild game. Our grandfather shot rats with pellet guns in the corn barn. I identified completely with the rats. My brothers & I, spending time on that farm in our childhood summers, developed no special eros around guns, though they chased each other around, fake-shooting & fake-dying, plunging to the carpet with loud groaning, arguing about who was really dead. Is the love of the gun shape connected to a Y chromosome? Probably not. Our leader blames mass shootings on video games.
"The United States makes up 4.4 percent of the world's population, but holds almost half of all civilian-owned guns worldwide and the homicide rate is 20 times higher than the combined rates of 22 developed countries."
The right, the right. The Second Amendment is a time-specific right, associated with early militias & muskets that took ten minutes to load. The right to bear arms was considered a powerful right by rural settlers; the right wing remains committed to this revolutionary throwback issue. The fierce independence, the fear of being dominated by an outside power; the fear that an authority will hold unreasonable sway over you—all these led to a particularly American defiance. Settlers & occupiers since the beginning of time fear the not-us: protect family; our tribe against them; protect property & life. The Second Amendment, made by & for free white men only, assumed militias in the street to guard a particular idea of home as an individual & not a communal space.
Dickinson's poem & the terrified rural right both express defiance toward authority. But those clinging to their guns are physically fearful, holding nothing in common with the ferocity of Dickinson's speaker who writes of the power of her imagination as a loaded gun.
After Sandy Hook & the 2016 election, I signed up for some of the Second Amendment websites so that, like Mithridates VI who poisoned himself a bit each day to prepare for a possible "big poisoning," I could get used to their craziness. I couldn't read them. After Parkland, I decided to turn off all media the moment one shot is fired. Impossible; I can't turn off all movies or "bullet points" in your PowerPoint. Gun eros flows from the corporate world. A poet recently reported (a little proudly) that her poetry reading in an international setting was punctuated by guards firing assault weapons into the air.
According to a 2016 study by Harvard and Northeastern Universities, more than half of the privately owned firearms are by just 3 percent of Americans. Congressman Mark DeSaulnier sent this out: "The United States makes up 4.4 percent of the world's population, but holds almost half of all civilian-owned guns worldwide and the homicide rate is 20 times higher than the combined rates of 22 developed countries. The commonsense reforms we have made in California are working. As the state with the top-rated gun laws, we also have the ninth lowest rate of gun violence in the country. Universal background checks, mandatory waiting periods, and an assault weapons ban are among the reforms that protect public safety while not infringing on Second Amendment rights."
For decades I've participated in demonstrations that have turned "violent"—meaning, protesters end up getting hurt. We are losing patience. In a letter, my hero Rosa Luxemburg says she used her gun to help get a pamphlet printed in 1917. I read this in the context of her time; a gun ensuring speech, not silencing it. When I told an elderly friend that, though I am not an absolute pacifist, I don't think I could shoot anyone, she said, You never know what you would do in the moment. She had been in the Polish Underground in World War II & had shot a Nazi soldier to protect another woman. She thought about it every day, she said.
I know my position on guns is possibly a luxury. Though my parents come from poverty, I have the advantage of being white & middle class. I am a teacher with beloved family & friends; I can write my strange poems & talk to trees or the spirit world in great freedom. My participation in street protests is optional—I protest when I can.
This is not Burma or Haiti. If an intruder came through my front door to get my grandchildren, I might lose control. Though he is himself a woman's child, I might hit him with a pan. I might hit him with a dish or a lamp. But I don't believe I would fire a weapon at another human being; that involves planning by having the gun handy, & my inner authorities & my old Christianity say one should not plan to kill, whether under orders or because of hatred or ideology.
That is as far as I've gone in my thinking, America. We need to live so we aren't full of fear. Not doing the wrong thing is on the way to doing the right thing.
Sincerely, Brenda Hillman
_________________________________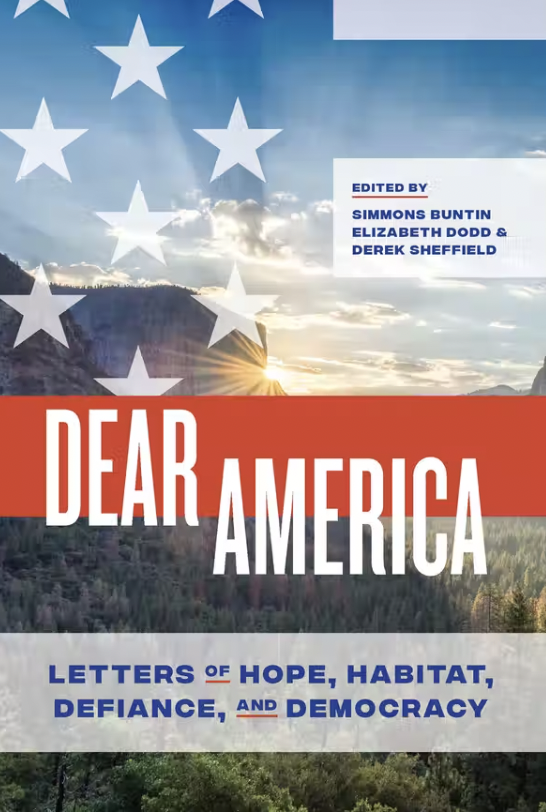 Excerpted from Dear America: Letters of Hope, Habitat, Defiance, and Democracy; edited by Simmons Buntin, Elizabeth Dodd and Derek Sheffield published by Trinity University Press. For more information, please visit tupress.org.