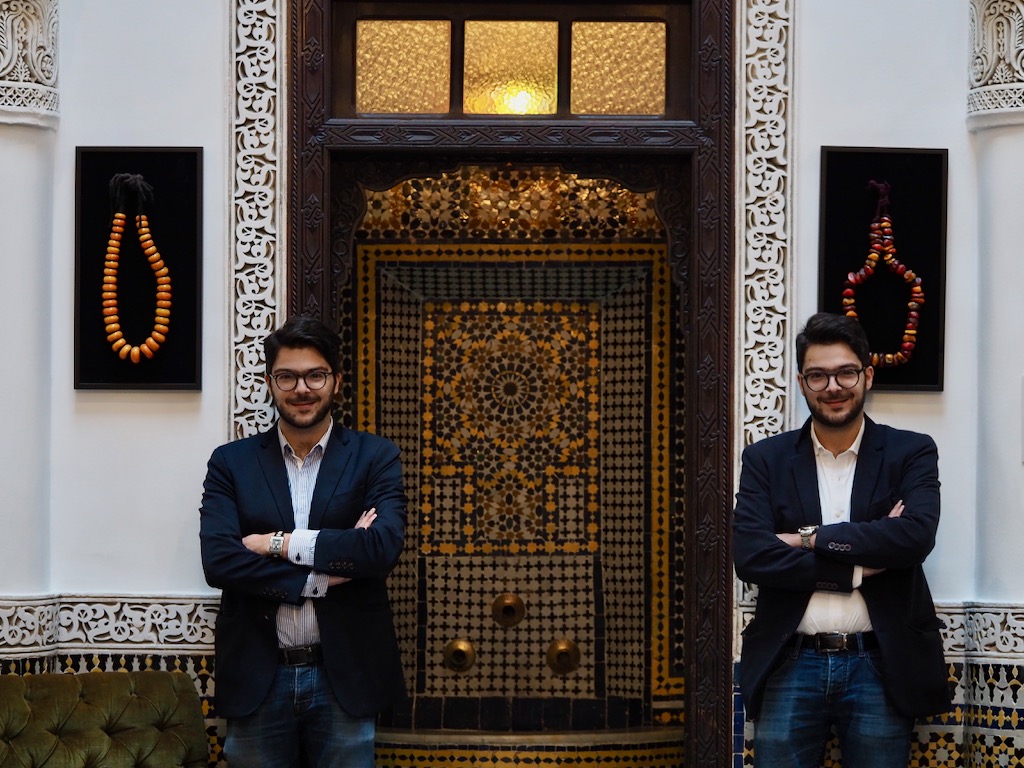 Columbia Hillen
Twin brothers, Omar and Othmane Belkhayat (31) are just the kind of tourism entrepreneurs Morocco needs.
Personable, multi-lingual, having lived in cities such as Montreal, Paris and Madrid, and with banking background experience, they returned to their native home two years ago and revamped their father's riad in Fez.
Tucked away along a narrow alleyway, a 5-minute walk from the central medina, Le Grand Alcazar Riad is an elegant, three-floor property – four if you include an open terrace overlooking the city – which once belonged to the Ministry of Culture.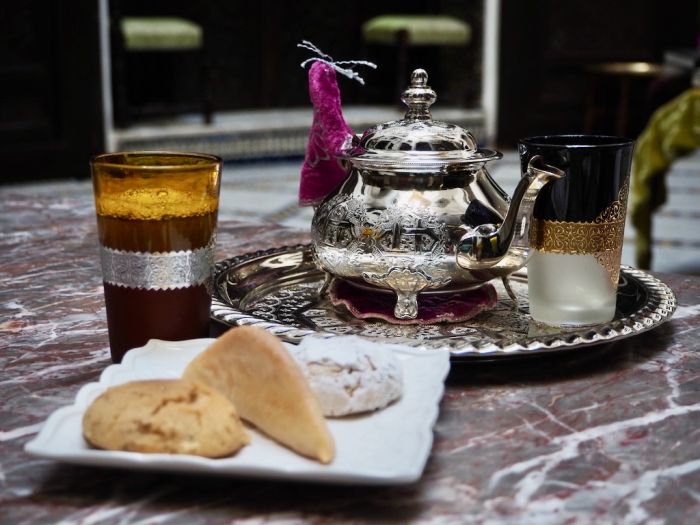 Columbia Hillen
The twins have managed to put together a young, friendly staff, most of whom speak several languages, including English and French. Ghizlane Aqachmar (27), for example, acts as receptionist and guest relations manager, having studied English at university. No request seems too much for her quiet, patient manner, as it was for her colleague, Eiub. 
Upon arrival guests are treated to a cordial traditional welcome, with ceremonial mint tea and a selection of sweet, scrumptious cookies, bahla, kaab ghazal and ghriba, made with sesame and almond, that crumble delectably in your mouth.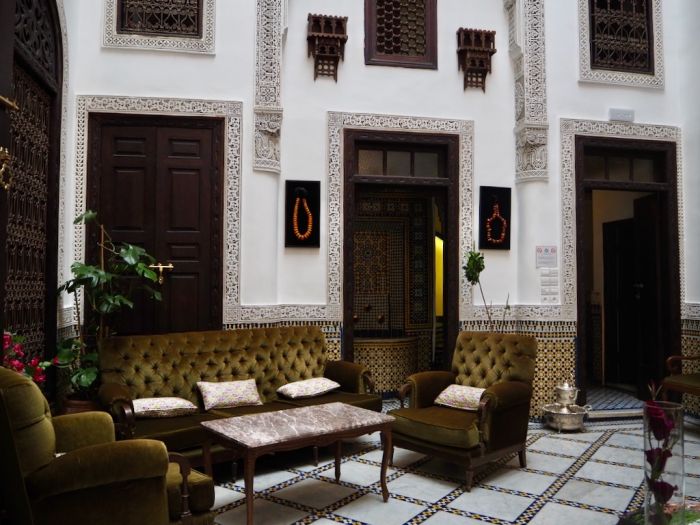 Columbia Hillen
Sipping tea in the elegance of the ground-floor lobby with its mosaic tilework known as zellige, gleaming marble floor, intricately carved wooden doors, traditional wall decorations including Berber wood necklaces, Fezi brocades, and fresh flowers and plants while gazing to a skylight high above was sheer delight.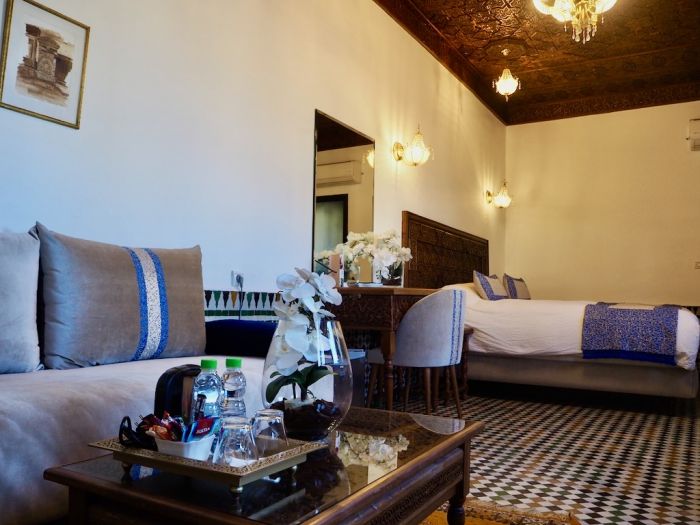 Columbia Hillen
Our suite, one of seven rooms in the riad, was located on the third floor, the only one opening on to a roof-top outdoor terrace. Not surprisingly, evenings found us sitting at a table gazing out over the stars and the cityscape that stretched all the way to a hill burial ground of former Sultan rulers, the Merinides, a powerful 13th century dynasty.
The highlight of our suite, aside from its spaciousness, was a splendid, intricately carved cedar wood ceiling and colorful tiled floor. Furnishings included soft comfortable couches, a big-screen TV, flowing curtains, a walk-in wardrobe and a combined bath and shower.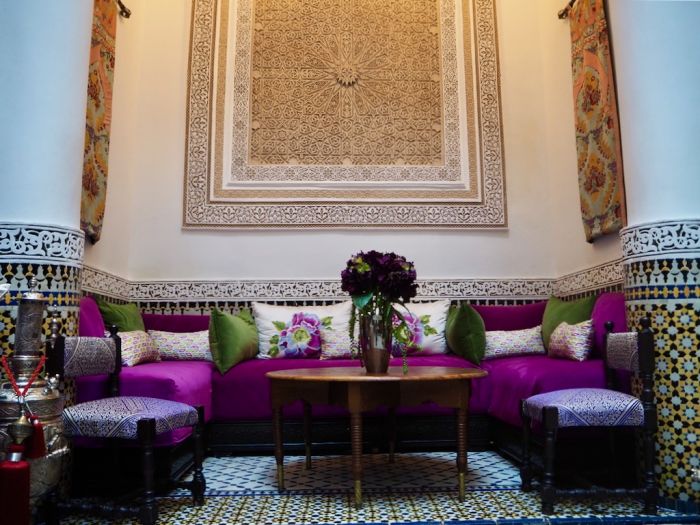 Columbia Hillen
One word of caution, while our suite offered us terrific views and privacy, there is no elevator so the walk up the steep stairs could be cumbersome for people not used to such exertion, so lower floor rooms may be more suitable.
Renovation of Le Grand Alcazar took place in two stages, between 2005-2007 and 2018-19, with every room being decorated in a different style, often using reclaimed traditional furnishings. Omar describes the completed project as, "a balance between authenticity and modernism."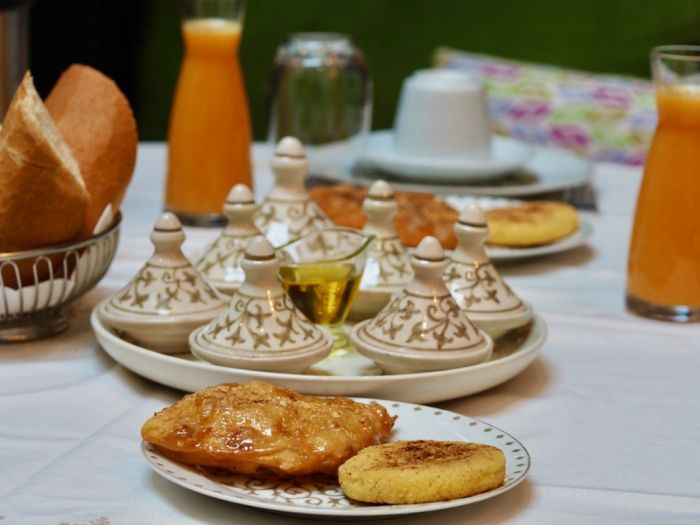 Columbia Hillen
Whether for breakfast or dinner, food by chef Fatiha and her daughter is of high quality. The former consists of freshly squeezed orange juice, coffee, olives, cheese, jams and a Moroccan version of peanut butter but with almond and argan nuts, called amlou. 
A wide range of detox juices are also on offer made from beetroot, cucumber, ginger and red pepper; tonic juices comprising kiwi, cucumber, honey, ginger and parsley; and vitality juices with orange, carrot, apple and lemon. Try the rghaif, sweet pancakes with almonds and honey, and harcha, a flat bread made with semolina.
Columbia Hillen
Dinner is equally delightful. We feasted on candied tomatoes, spinach, aubergine caviar, candied pumpkin, peppers, traditional pastille and Moroccan-style ratatouille. With Moroccan cooking involving aromatic spices such as turmeric, cinnamon, cumin and paprika, a healthy menu is guaranteed. Other dishes include lamb with prunes and meatball tajine.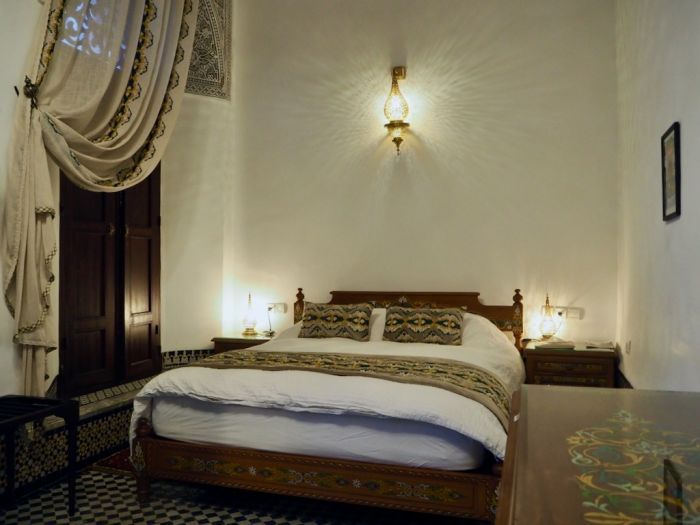 Columbia Hillen
My companion and I were not the only people impressed by what the two friendly brothers have accomplished. "Restoration of this riad is masterful," said Paul Casowitz, a retired former deputy New York Fire Commissioner, who was a guest at the same time as us. "The view from the rooftop terrace is worth the climb. The location is perfect, close to the souk. The staff and owners could not be more welcoming or helpful. Our room was beautiful." Casowitz reflects the cosmopolitan nature of the clientele at this riad, with other guests originating from such places as the UK, France and central and south America.
Columbia Hillen
Among the advantages of Le Grand Alcazar is its proximity not just to the traditional medina but also to several museums, art galleries and a Royal Palace.
If you are interested in something quite different, don't miss a visit to the American Fondouk – a sanctuary for sick and injured mules, donkeys and horses, providing charitable veterinary care in Morocco since 1927. Entrance is free and one of the devoted vets such as Dr. Safaa will show you round and explain what she and her fellow doctors, mostly women, do. A donation box is located inside the entrance door with contributions supporting the admirable work overseen by the Massachusetts Society for the Prevention of Cruelty to Animals. Omar and Othmane aim to set up a project to support the sanctuary.