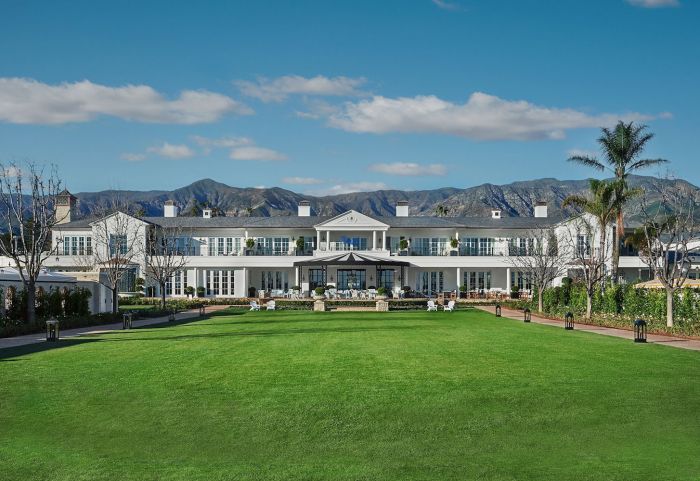 The Great Lawn, Rosewood Miramar Beach. Photo courtesy of Rosewood Miramar Beach
With its Mediterranean-inspired architecture, expansive beaches, enveloping Santa Ynez mountains, and year-round sunshine, no other United States locale so well mimics the aesthetic of the European Riviera as does Santa Barbara. Hence the region's nickname – The American Riviera. And within this posh paradise, no other resort so well mimics the European Riviera's grand hotels as does Rosewood Miramar Beach, located in the tony town of Montecito. 
It was in the 1880s that movers and shakers from around the world first discovered Montecito's charms. The warm climate and expansive beaches proved irresistible, and Montecito became a hub for the glitterati. It still is. Many on the Hollywood A list choose Montecito as home, and most go about their business without need for the requisite sunglasses/hat disguise. Here, celebrity isn't celebrated as much as it's merely sensed. Residents, whether famous or not, hobnob together along Coast Village Road, within the Upper Village, and within the bucolic grounds of Rosewood Miramar Beach.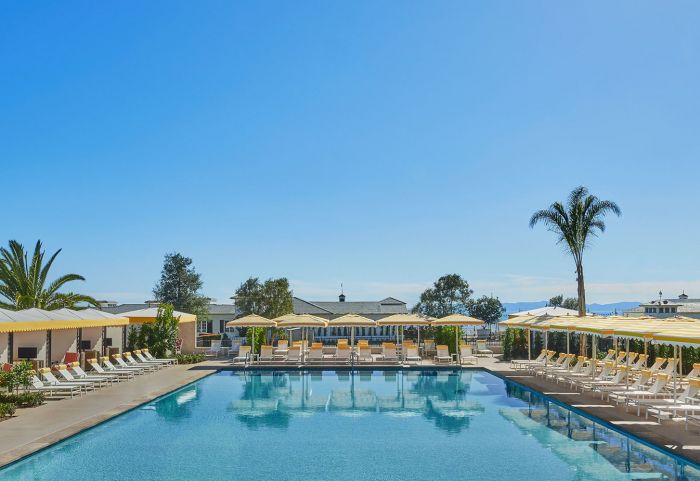 Rosewood Miramar Beach Manor Pool. Photo courtesy of Rosewood Miramar Beach
Opened just more than a year ago, Rosewood Miramar Beach is without a doubt Santa Barbara's most stunning resort. Owner Rick Caruso, real estate developer of popular retail sites such The Grove at Farmers Market in Los Angeles and the Commons at Calabasas, has created a timeless and service-oriented retreat inspired by Montecito's urbane manors and the classic grand hotels of Europe. Style, grace, and glamour fill the lemon-tree scented air. This homage to the golden age of hospitality features 161 ultra sumptuous and spacious rooms and suites sprinkled throughout manicured gardens lined with white pansies. Those seeking a bit more privacy choose the beachfront bungalows with direct access to the sand and to bespoke beach service. Two cabana lined pools (one for families, one for solitude) flank the great lawn upon which white Adirondack chairs are poised towards the Pacific. Senses, a Rosewood Spa, and a state-of-the-art fitness center provide further rest and relaxation, as does the selection of goop sundries found in the lobby's goop boutique, the brand's first hotel shop.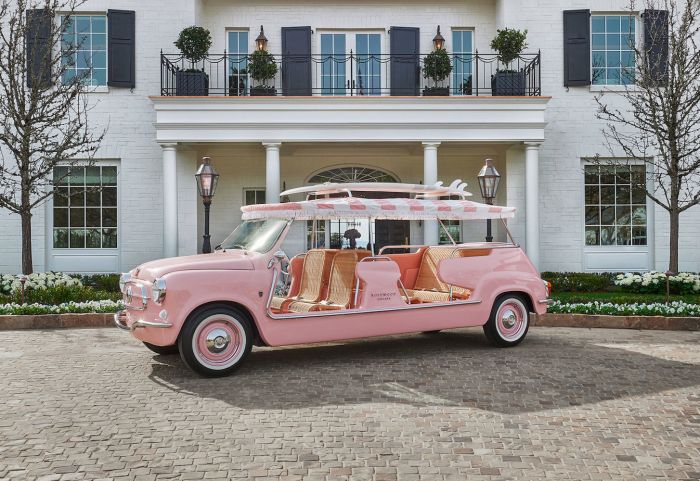 Photo courtesy of Rosewood Miramar Beach
Photo courtesy of Rosewood Miramar Beach
A Rosewood Miramar Beach stay necessitates dining at one or all of its six distinct culinary venues, each overseen by Executive Chef Massimo Falsini. Among them, Caruso's, the resort's signature, oceanfront restaurant, designed to resemble the stern of a yacht, serves Italian with a twist. Hovering above is Miramar Beach Bar where classic cocktails are served with an always brilliant setting sun. And Malibu Farm at Miramar, the resort's stylish, farm-to-table restaurant features al fresco dining.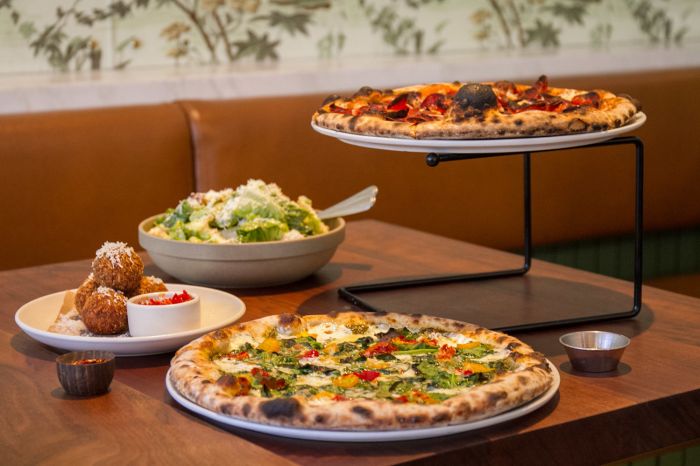 Lunch at Bettina. Photo by Cecilia Rosell.
While staying at Rosewood Miramar Beach, dining along Coast Village Road is also a must, and a lunch or dinner reservation provide the perfect opportunity to thumb a ride into town aboard Rosewood Miramar Beach's house Rolls-Royce that drops-off and picks-up guests anywhere within a three-mile radius. New to the dining scene is Bettina, located in Montecito Country Mart and serving California cuisine with an Italian accent. This cheery bistro features Neapolitan-style pizzas, salads, and naturally leavened breads (try a slice with their house made salted butter). Nicknamed in honor of the patron saint of bakers, Bettina's interior evokes the conviviality of a mid-century seaside resort. Don't miss the curated selection of spritzes, amari, and digestifs. 
Housed in a glowing amber room adjacent to historic Montecito Inn on Coast Village Road is Sushi|Bar Montecito, the second location of celebrity chef Phillip Frankland Lee's critically-acclaimed omakase restaurant. The simple yet sultry space is modeled after traditional Japanese sushi bars of the 1930's and features a 17-course menu and a selection of sakes, beers, and Japanese whisky. And don't miss Coast Village Road's 'in' spot, The Honor Bar, where you'll find salads, sandwiches, and burgers, and almost certainly a celeb sighting.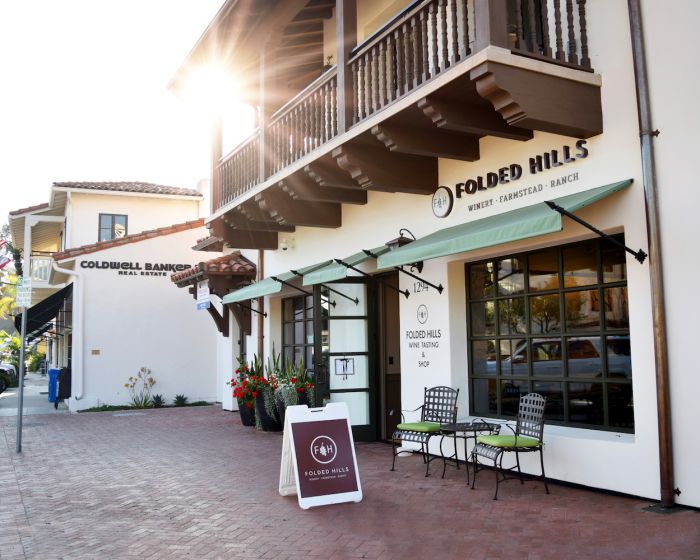 Folded Hills Tasting Room Montecito. Photo courtesy of Visit Santa Barbara.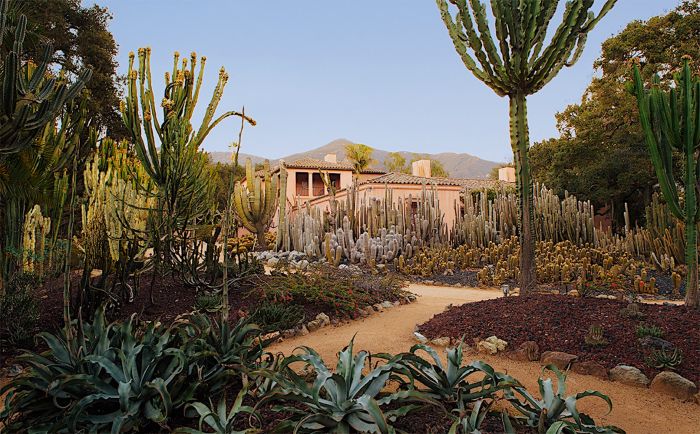 Lotusland. Photo courtesy of Santa Barbara Culinary Experience.
Explore each of Santa Barbara's 30 tasting rooms along the Urban Wine Trail; most are within blocks of downtown and the beach, and one – Folded Hills – is Montecito's first and only wine tasting room; flights, wines by the glass, or bottles of its small-production Rhône varietals are served seven days a week. A visit provides a perfect rationale for a Rosewood Miramar Beach Rolls Royce lift. A must for horticulture lovers is Lotusland, a whimsical botanic garden created by the renowned opera singer Madame Ganna Walska of Poland who moved to the area in the 1940s. For more than four decades, Walska established 25 different gardens on her Eden-like estate, where rare cycads and 300 species of cacti thrive. 
Montecito is home to some of the area's most stunning stretches of coastline, from Fernald Point, past the calm waters of Miramar Beach and renowned surf break at Hammonds Point, to sparkling Butterfly Beach where stand-up paddlers and surfers vie for the waves. Hikers will want to explore the more than 15 different hiking and biking trails leading to varied vantage points, some of which provide epic views of the Channel Islands and beyond.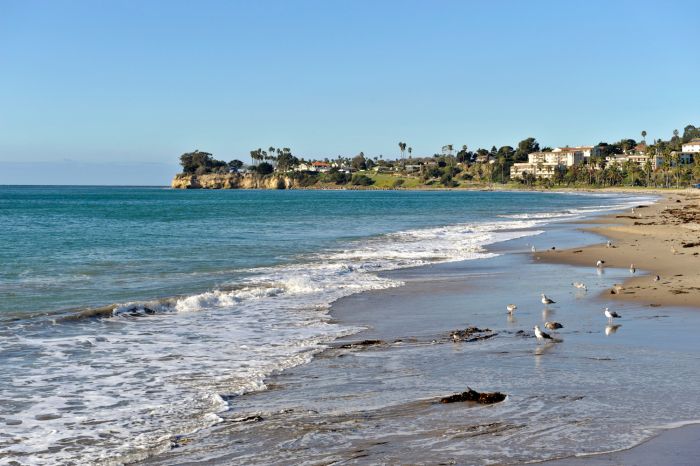 Leadbetter Beach. Photo courtesy of Visit Santa Barbara.
Just beyond Montecito is Santa Barbara's lively waterfront scene. Borrow a Rosewood Miramar Beach cruiser bike and pedal along the Cabrillo Bike Path to arrive at Oaxacan-inspired Flor De Maiz for a tasty lunch or for happy hour. For a longer ride, consider an electric bike rental from the Funk Zone-based Wheel Fun Rentals and make your Santa Barbara exploration an exhilarating breeze.    
Finally, discover Julia Child's Santa Barbara via Visit Santa Barbara's interactive, downloadable map (sbce.events/julia-child-map/) that features all of Child's favorite places to eat, drink, stroll, and shop. Sample her favorite hot dogs, tacos, and martinis. One of Montecito's most illustrious residents, Child could have lived anywhere in the world, but the magic of Montecito cast its spell, as it does on all who visit.