It's the kind of timing a publisher dreams of. Less than one week out from its U.S. launch, latest Irish literary phenom Naoise Dolan's debut novel Exciting Times (Ecco, June 2) has been optioned for TV.
Yes, following a hugely successful release in the UK and Ireland back in April, when it debuted on the Sunday Times Bestsellers List, Exciting Times has been snapped up by Black Bear Pictures (The Imitation Game, Mudbound), which will develop and produce the novel as a premium series.
Exciting Times—somewhat confusingly described by Vogue as "Half Sally Rooney love triangle, half glitzy Crazy Rich Asian high-living and guaranteed to please"—is the story of an Irish expat millennial teaching English in Hong Kong who becomes embroiled in a love triangle with a wealthy man and woman.
Dolan said of the announcement: "I think my love of dialogue is clear from the book, so I'm thrilled to partner with Black Bear to bring the characters to a TV audience, and even more so to be involved as an executive producer. Black Bear is discerning, independent-minded, and very engaged with the novel, so it will be a privilege to work together on this project."
It has been a banner week for Trinity College Dublin English literature graduates in general. Aside from Dolan's TV deal, in the past seven days Sally Rooney's Normal People vaulted back to the top of the UK bestseller charts, twenty-seven-year-old Louise Nealon signed a six-figure deal for her debut novel, and, perhaps most significantly, I logged my 500th unique beer on the Untapped beer app, which earned me the 'Legendary' badge (pictured below) I've been chasing for so long.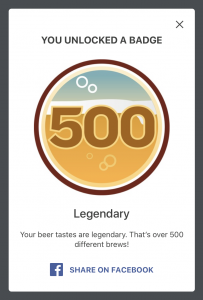 Oh, and for those of you who are curious, Naoise is pronounced "Nee-Sha," just as Saoirse is pronounced "Sear-Sha."
[h/t Deadline]