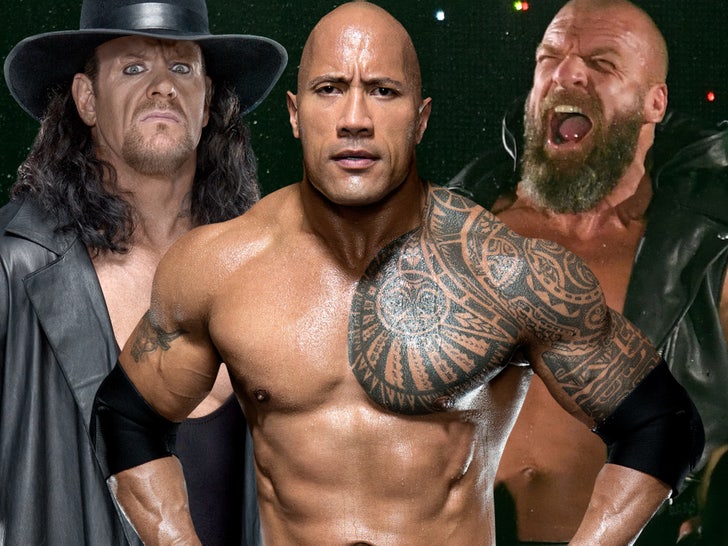 Exclusive
Did you know … The Rock's signature move — THE PEOPLE'S ELBOW — was created as a joke to make Undertaker laugh?
It's true … according to Triple H who's giving us the hilarious origin story for one of the most iconic finishing moves in pro wrestling history.
Undertaker famously took the role so seriously, he's like the Daniel Day-Lewis of pro wrestling … you could NEVER get him to crack.
But, during a 6-Man Tag Team match back in the day, Triple H says … Dwayne Johnson tried out something new and goofy in the hopes to make The Dead Man smile.
"I believe the first time Rock did The People's Elbow was in a match where we were tryna make 'Taker crack," Triple H says.
"It absolutely started [as a joke] and then it was getting huge reaction and everybody went with it."
Of course, The Rock LOVED the attention from the move — and grew it from there.
CAN YOU SMELLLLLLL WHAT THE ROCK IS COOKIN?!!?
Triple H — who's a key figure in the new WWE docu-series "Undertaker: The Last Ride" (airs Sunday on WWE Network) — says he's got a TON of great 'Taker stories that he reveals on the show.
… including 'Taker's hatred of cucumbers?! YEP!!
The series chronicles Undertaker as he wraps up his WWE wrestling career — and Triple H says it's obvious why everyone has nothing but respect for the guy.