In the literary world, blurbs are a fraught business. These days they're an industry standard, and writers and publishers need them to promote their books, but they are, above all else, a favor economy, and lots of people sort of wish they didn't exist. But no matter your take on the blurb, we all have to admit that the word for them is perfect: a little ugly, a little like a puddle, but juicy, taking up space, defiant and happy to be here. So where did the word come from?
In a 1922 issue of The New York Times, writer and drama professor Brander Matthews gave readers an overview of one small but mighty literary genre: the blurb. Matthews was writing primarily about publisher's blurbs, which he noted can range from the plain to the over-exaggerated ("The blurb-writer, when he is truly a master of his craft, will exaggerate so cautiously and so imperceptibly that we must believe him to be uttering truth")—but the term has of course since expanded to include endorsements from other writers. Much of what he writes still rings true: "To me, at least, "blurb" is the Siamese twin of "jacket": they go inseparable, united in life and passing together into oblivion."
But if in 1922, the word was gaining traction, where did it come from? In his article, Matthews calls the word "a colorful and illuminating neologism which we owe to the verbal inventiveness of Mr. Gelett Burgess."
Gelett Burgess, as it turns out, was a Bay Area humorist and writer of nonsense verse, famous-ish for his 1895 poem "Purple Cow," which he published in his own magazine The Lark and which goes like this:
I never saw a Purple Cow,
I never hope to see one;
But I can tell you, anyhow,
I'd rather see than be one.
Fitting, perhaps, that it was this mind that invented the term "blurb"—in 1907 on a mock cover of his own book, Are You a Bromide?, which he was presenting at a dinner given by the American Booksellers' Association. Publisher's blurbs, of course, had existed before then, but it was Burgess who put a name to them: the name of Miss Belinda Blurb (whose image Burgess reportedly "lifted from a dental advertisement"). Here it is in full: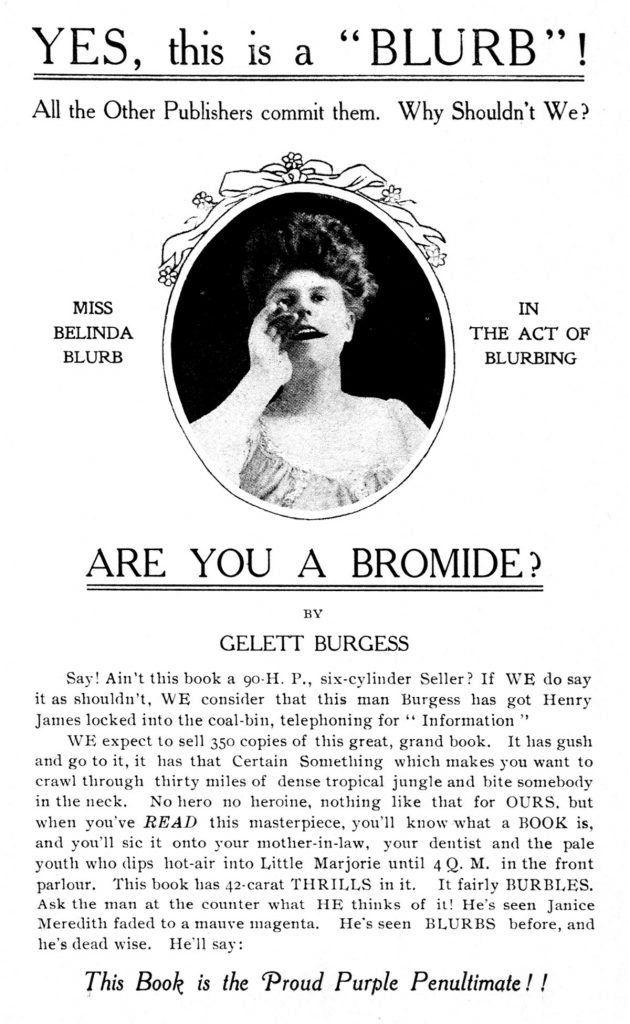 Later, he included the term in his Burgess Unabridged: A New Dictionary of Words You Have Always Needed, defining it this way:
Blurb, n. 1. A flamboyant advertisement; an inspired testimonial. 2. Fulsome praise; a sound like a publisher.
Blurb, v. To flatter from interested motives; to compliment oneself.
As it turned out, it was a word we had always needed.