Healdsburg's newest luxury hotel option is, in and of itself, a wonderful place to enjoy a bit of rest and relaxation within the beauty of Northern California wine country. Located on a stretch of three acres with westward facing mountain views, the 11 room boutique property features amenities typically found at a larger resort, such as a swimming pool and chaise lounge-lined pool deck, hot tub, six pickleball courts, bocce courts, and a central 18 hole putting course that is tended daily by Mayacama Golf Club greenskeepers.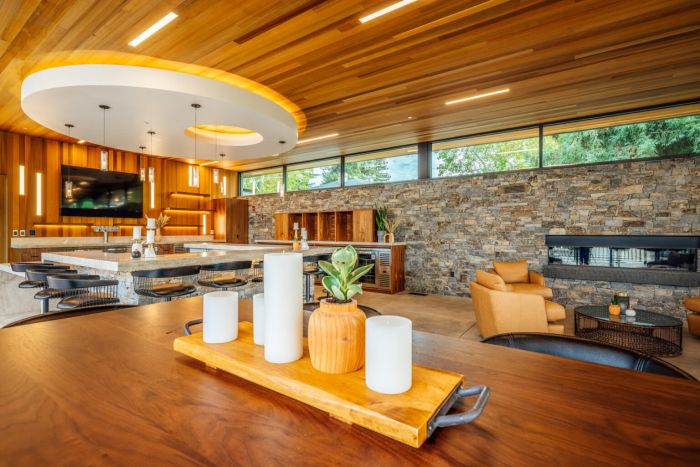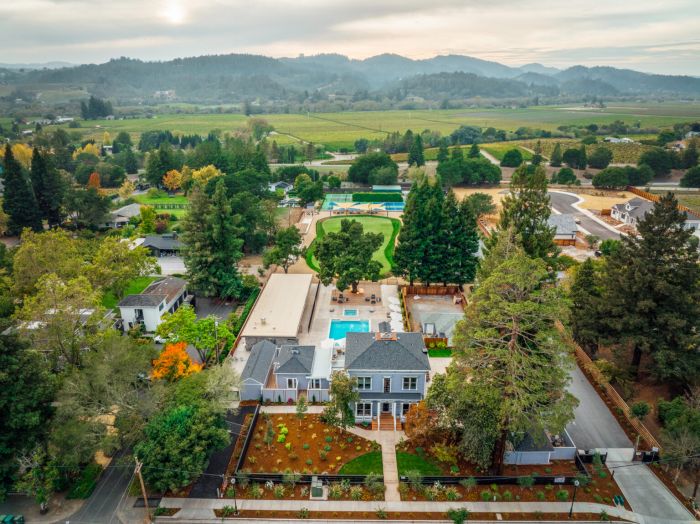 Mayacama is the keyword here. The Ruse is owned and operated by the private golf club's ownership team; they are pairing the two entities, and in doing so, are making golfers' dreams come true. With their opening of The Ruse, the Wilhelm family allows overnight guests to play a round at their revered, nearby golf club, home to what is considered one of the top 100 golf courses in America. The Jack Nicklaus-designed course is among Nicklaus' best, featuring deep green fairways that snake through golden valleys and oak-studded hills. Open only to members until now, the chance to play this iconic course is reason to book one of The Ruse's luxurious rooms.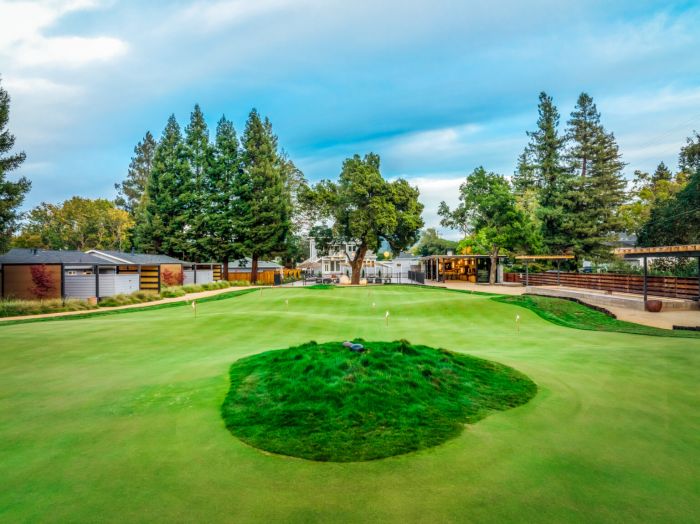 18 Hole Putting Green at The Ruse Healdsburg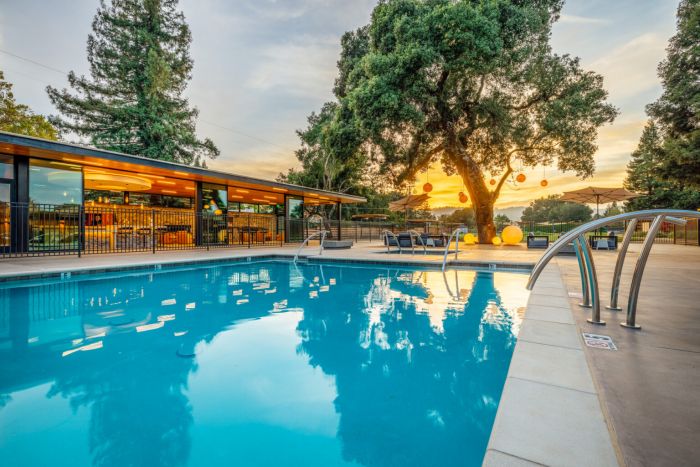 Pickleball enthusiasts too will want to consider The Ruse as their new Shangri-la. Any fan of the sport knows that courts, when they can be found, are overcrowded, and wait times are frustrating. With its 11 room to six pickleball court ratio, The Ruse has room for everyone in your group, and as the word gets out, will no doubt become one of NorCal's premier pickleball resorts.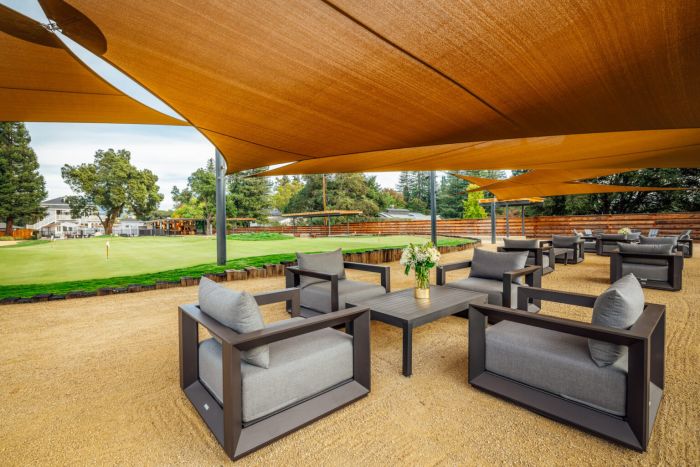 Outdoor Pavilion, The Ruse Healdsburg
With its 11 sumptuously appointed rooms (seven of which are located in the stunningly remodeled main building and four of which line the putting green) and its pool adjacent 'Pavilion,' the resort is an ideal spot for small group gatherings. Spend the day at Mayacama, and return for afternoon wine and appetizers, enjoyed within the Pavilion's fireplace adjacent cushy club chairs. Plan a pickleball tournament where bystanders can watch the action from the large, trellised patio. Hire The Ruse's dedicated chef to make and serve dinner, or simply drive four minutes (or walk) to charming Healdsburg Plaza where Chef Dustin Valette's three restaurants serve as the town's communal living rooms: Valette, The Matheson, or Roof 106.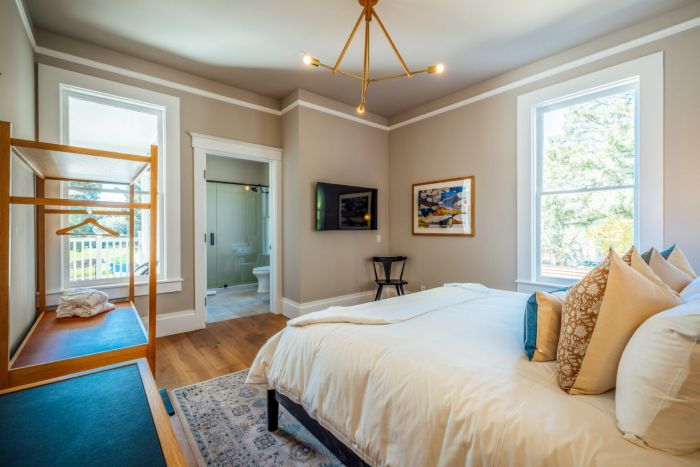 Guestroom at The Ruse Healdsburg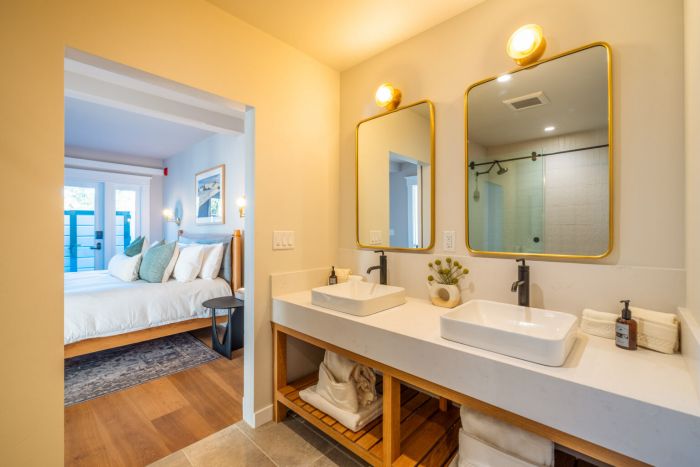 The Ruse opened just a month ago, and ownership is still planning and plotting varied programming. With their rich wine country connections (Mayacama is the club of choice for many of Napa and Sonoma's most notable vintners and winemakers) the Wilhelms hope to schedule themed wine weekends and other wine events hosted by vinous luminaries such as Jesse Katz of Healdsburg's Aperture Cellars. The Wilhelms' great relationships with such vintners prove advantageous to all guests who receive a bottle of varied labels at check-in.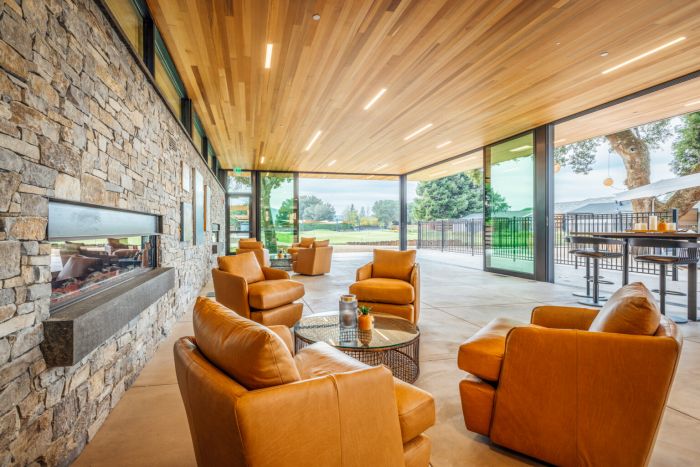 Indoor Pavilion at The Ruse Healdsburg