Lit Hub is excited to share the cover of Amy Brady's debut book, ICE: From Mixed Drinks to Skating Rinks—A Cool History of a Hot Commodity, out from Putnam in June 2023.
Ice is a captivating cultural history that examines the unexpected and unexplored ways that ice has transformed our nation since its invention nearly two hundred years ago. From the introduction of mixed-drinks "on the rocks;" to P. T. Barnum's first-ever indoor ice rink; to how delicacies like iced custard and iced tea revolutionized our palettes; to the ubiquitous ice machine in every motel across the U.S.—the influence ice has had in shaping the way live today is impossible to overstate yet has become obscured in our every day. Ice offers a fresh and compelling look at the climate crisis through the lens of an amenity that is as much responsible for climate change as it is necessary to surviving its effects; the book explores this impact as it celebrates the cool ways this ever-precious commodity continues to benefit our lives—and considers what its chilling future might look like on a swiftly warming planet.
Here's the cool (LOL) cover: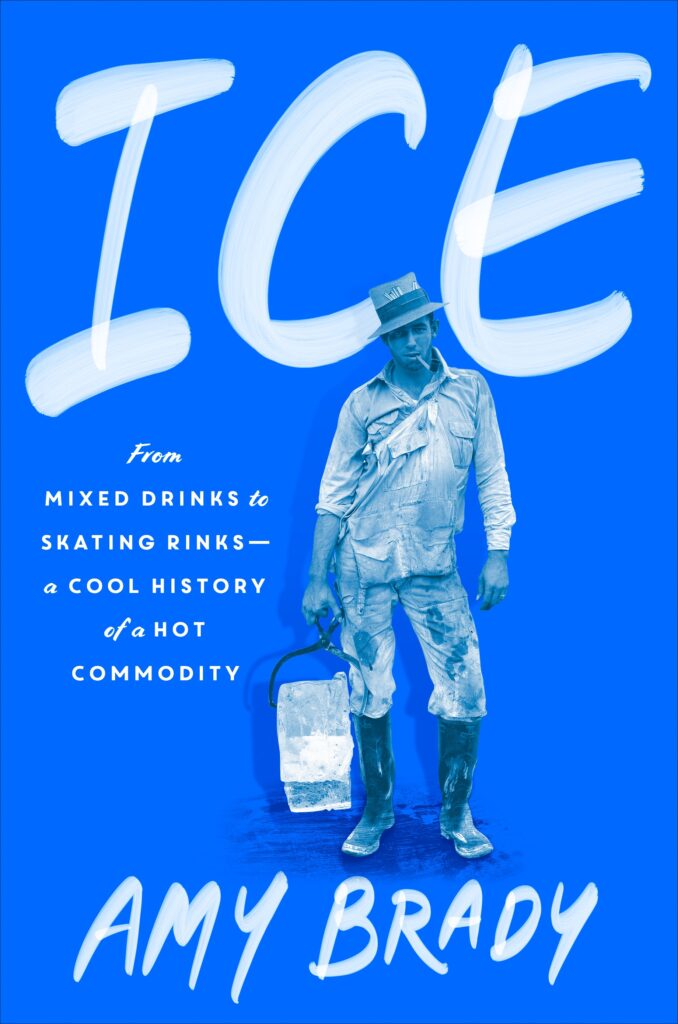 "The history of ice in America is first and foremost a history of people, wildly brilliant, strong, strange, and visionary people, and I wanted the cover to reflect that," Brady told Lit Hub. "Tal captures this perfectly with an image of the most recognizable figure in ice history—the iceman. As I write in the book, the iceman was once the "theme of song and story," capturing the hearts and fantasies of so many (there are more early 20th century songs than I can count about falling in love with the iceman.) The man on the cover, with his swagger and smoky gaze, knows that delivering ice doesn't just make him cool—it makes him hot."
Penguin Art Director Tal Goretsky, who designed the cover, says: "When discussing the cover design, the editor, Michelle Howry, showed us the image of the ice delivery man, and everyone was smitten. The photo was taken in 1928, and gives a sense of the historical context of the book. We also loved how sassy he is (check out the matches he keeps in his hat). I originally tried a classical font for the type, but I'm glad we ended up with this handwritten script. It's a nod to those vintage hand-painted 'ice' signs you still see around, with a twist."
ICE: From Mixed Drinks to Skating Rinks—A Cool History of a Hot Commodity will be published by Putnam on June 6, 2023.