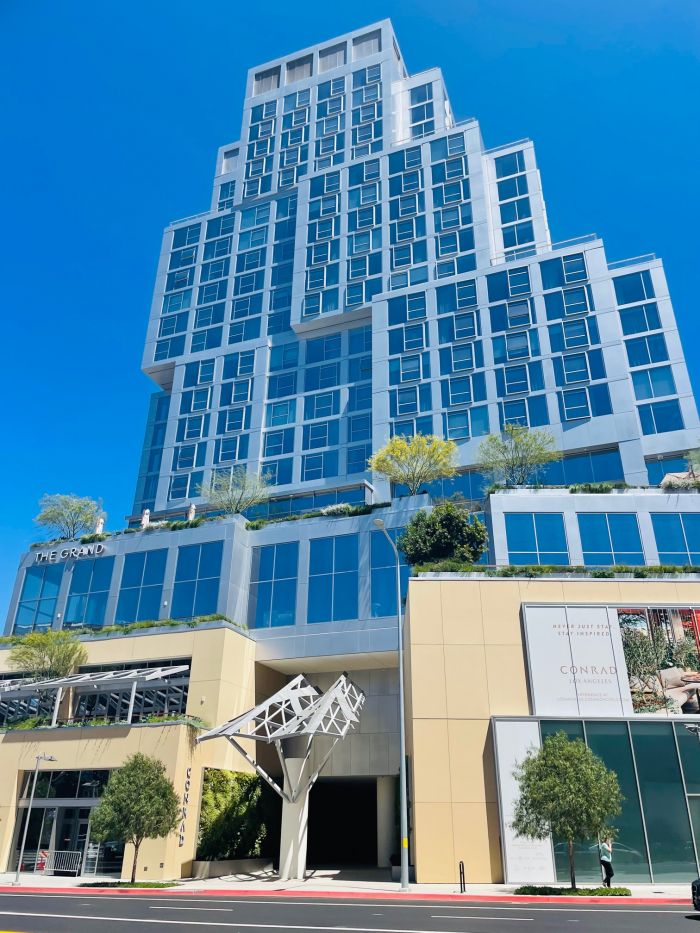 Jill Weinlein
The Frank Gehry designed Conrad Los Angeles opened in mid-July, 2022, as the newest Golden State luxury Hilton brand. Riding an elevator up to the 10th floor reception area, visitors will be captivated by the interiors from world-renowned Tara Bernerd.
"We are excited to expand Hilton's West Coast presence with the debut of the first Conrad Hotels & Resorts property in California, one of our largest growing markets in the U.S. This is a monumental occasion as we open the doors to this incredible property amid downtown Los Angeles' development boom and we are looking forward to offering guests an unrivaled, luxury hospitality experience in this sought-after destination," said Danny Hughes, executive vice president and president, Americas, Hilton.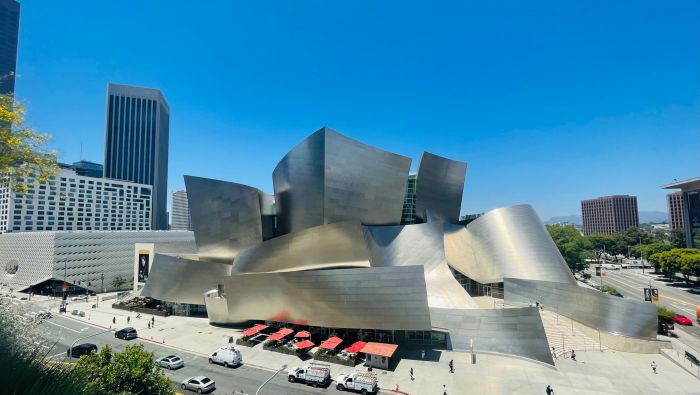 Jill Weinlein
Anchored within The Grand LA, Related Companies' a new shopping, dining and entertainment destination, this is now the premier place to stay and live in downtown Los Angeles. 
"The opening of Conrad Los Angeles establishes a new category of luxury hospitality in downtown LA inviting travelers to immerse themselves in the neighborhood's world-class art and entertainment venues like never before," said Rick Vogel, executive vice president, Related Companies. "Whether you are coming from across town or around the world, Conrad has delivered a one-of-a-kind, culture and wellness-infused experience that offers guests an entirely new perspective on our great City.'
The lines of Gehry's iconic and visionary Walt Disney Concert Hall architecture are subtly replicated inside to embrace the vibrant creativity of downtown LA. The interiors bring a layer of warmth and timeless elegance throughout the reception, lobby spaces and creative culinary venues helmed by award-winning chef and humanitarian José Andrés and his ThinkFoodGroup.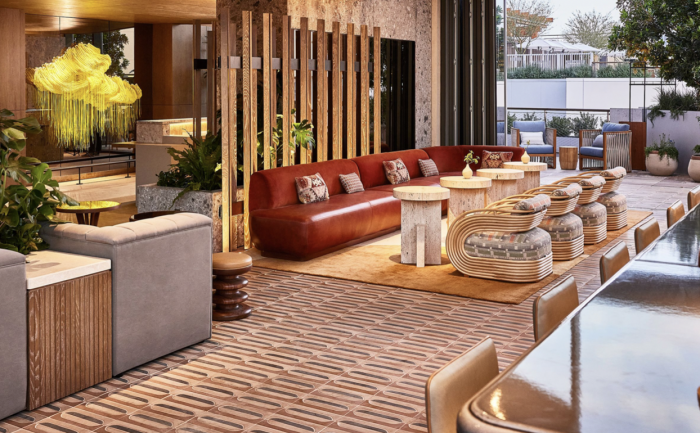 Jill Weinlein
Riding an elevator to the 10th-floor reception area, one immediately notices that Conrad Los Angeles is a chic and artful hotel. Artwork curated in collaboration with Judith Tatar of Tatar Art Projects showcases prominent local artists such as Mimi Jung, Ben Medansky, and Brian Wills.
Upon entering the hotel, guests will find themselves transported to a chic atmosphere, from the undulating ceiling in the lobby that marries the rhythm of the building's façade and lines, to the polished and glazed molten lava arrival bar piece that is 11,000 years old. 
A rich palette of pale linens, interspersed with rich woven fabrics, and an eye-catching pop of mustard yellow wall piece, complement the wide-planked pale oak floors, polished concrete and Ceppo di Gre stone from quarries of Lake Iseo in Lombardy. Live greenery planters soften the lobby, lounges and exciting culinary spaces.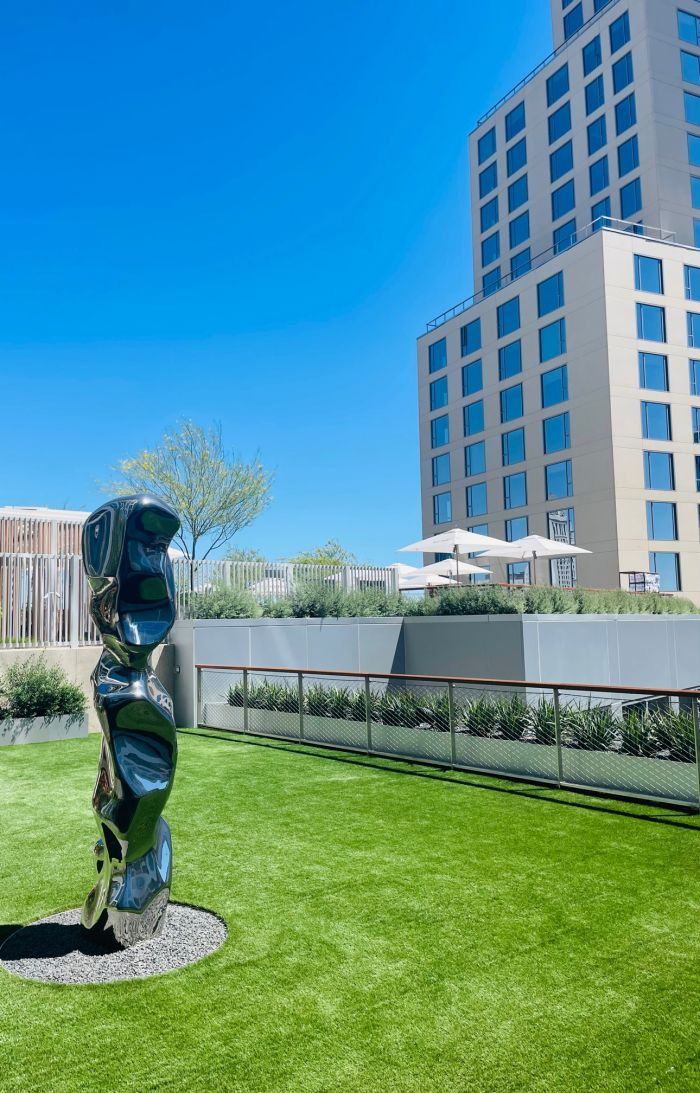 Jill Weinlein
Artist Jon Krawczyk brings his sculpture work to life on the property's event lawn. It's an ideal spot for large group gatherings and weddings.
These modern art installations further build upon Conrad Hotels & Resorts' commitment to connect guests with the Los Angeles community, providing insight into LA's flourishing art industry.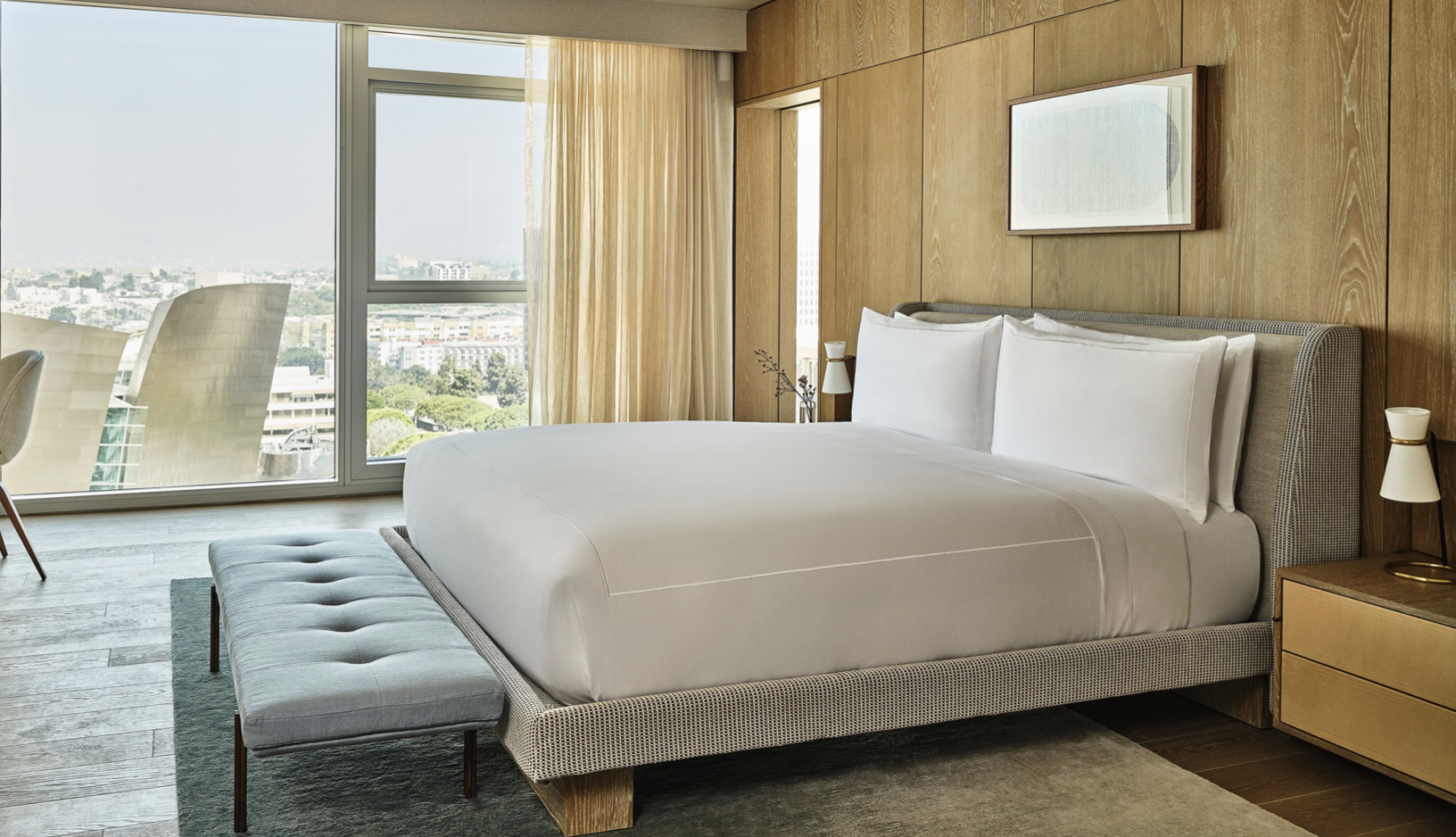 Conrad Los Angeles
This 305-room hotel has guestrooms on floors 11-28 offering dramatic views of the Walt Disney Concert Hall and Music Center LA, Dodger Stadium and greater Los Angeles to Palos Verdes and Catalina Island. 
There are 40 luxury suites that are each a little different ranging in size from 652 to 1633 sq.ft. Guest rooms offer a calming mix of sand and blue colors, with wide-planked pale oak floors, and natural wood walls.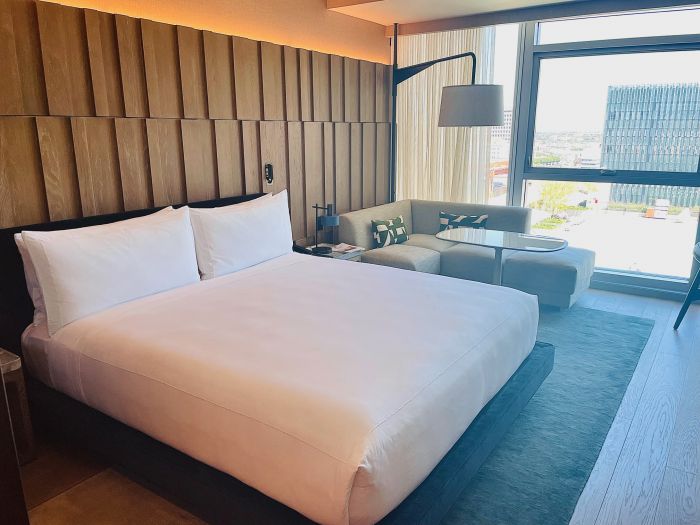 Jill Weinlein
The three presidential suites are designed to feel like a LA penthouse apartment. The Grand Avenue Suite is the ultimate expression of luxury, boasting a private terrace with unrivaled views of the city along with a six-seat dining room, a formal living room with built in bar, and a spacious master bedroom with a luxury bathroom and large walk-in wardrobe with plenty of storage.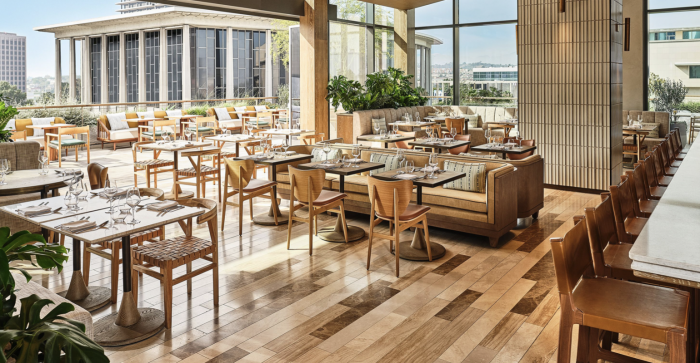 Conrad Los Angeles
Besides guests staying at the hotel, locals, theatre and museum fans will enjoy the hotel's culinary program with Executive Chef David Feau overseeing Chef José Andrés and his ThinkFoodGroup vision.
Overlooking the iconic Disney concert hall, San Laurel takes visitors on a tour of Spain's creative flavors with California's fresh, local ingredients. Breakfast and dinner menus are available highlighting a fresh juice bar, avocado eggs benedict, bone-in wagyu ribeye with potato, grilled romaine with manchego espuma salad, and roasted celeriac carpaccio.
The cocktail program includes a Japanese Whiskey milk punch and interactive Bergeron's Secret Chest served in a treasure box with dry ice. 
Jill Weinlein
For al fresco dining and a lively bar area, Agua Viva celebrates the spirit of California's desert and the Pacific Ocean. Seasonal fresh fruits and vegetables from the west coast incorporating Latin and Asian flavors inspired by Chef Jose's travels around the world. Take in the sweeping panoramic views of the city while enjoying shared plates, refreshing cocktails, specialty handrolls and one of Chef Jose's signature Txule ribeye burgers.
Jill Weinlein
Dining is also available on the pool deck showcasing a refreshing swimming pool and downtown LA views. Guests sitting on shaded lounge chairs or semi-private cabanas can order from the vibrant Airlight menu. Highlights include handheld bites and grilled vegetable and protein skewers. Creative cocktails include tiki punch bowls and to cool down even more, house-made push pops.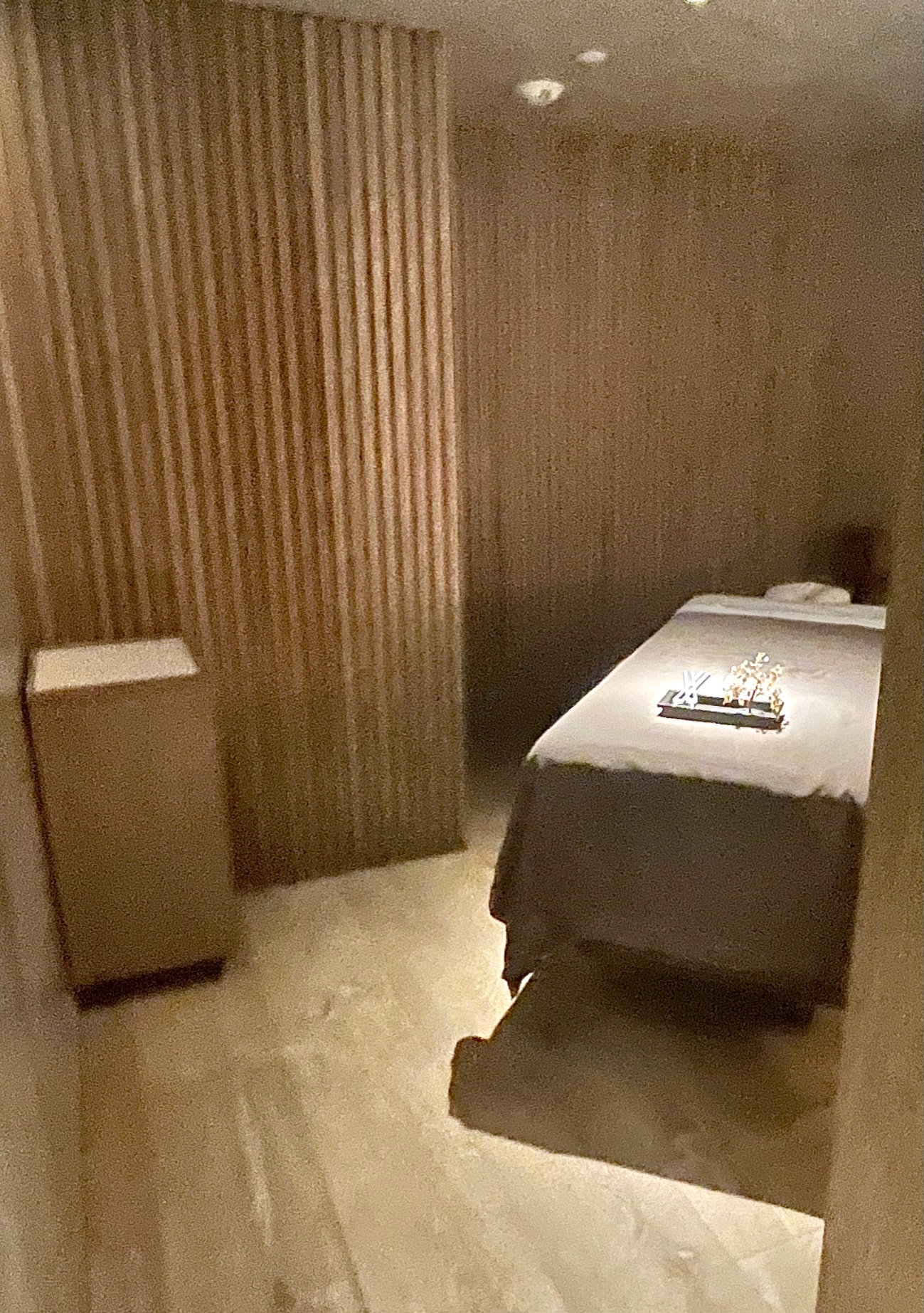 Jill Weinlein
The serene 7,000 square feet Conrad Spa Los Angeles, led by director of spa Alina Medyanikova, redefines relaxation by providing deeper and more meaningful guest wellness experiences. A curated body care bar features recovery products, plus an enlightenment lounge has 7 comfortable resting areas with weighted blankets. There is an infrared sauna that guests can use, plus a Gharieni Welnamis wavetable with music and a scalp massage.
Near the reception area are recovery cabins providing sanctuary to rediscover balance and restore sleep. The knowledgeable master bodyworkers provide personalized massage treatments utilizing specific techniques that include Thai Massages, Ayurveda Dosha Balancing, and Body Couture Treatment.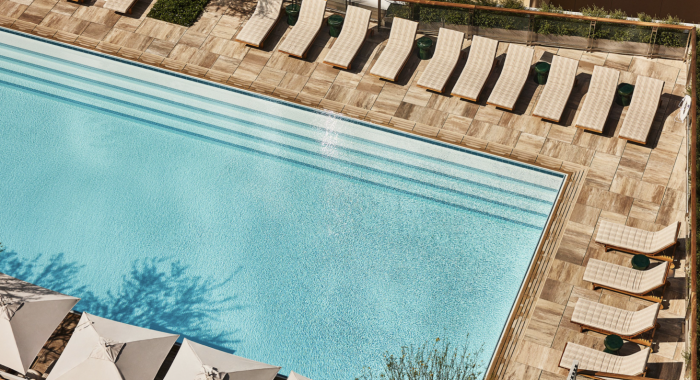 Conrad Los Angeles
Conrad Los Angeles is part of Hilton Honors guest loyalty program for Hilton's 18 distinct hotel brands. Members who book directly have access to instant benefits, including a flexible payment slider that allows members to choose nearly any combination of Points and money to book a stay, an exclusive member discount, free standard Wi-Fi and the Hilton Honors mobile app.