By 1910, Greenwich Village was the acknowledged center of those who claimed to be bohemians and whose lifestyle caused others to label them as such. America's bohemian movement had deep artistic and political roots in 19th-century England and France. The English suffragist movement and the international progressive, socialist, Marxist, and French syndicalist labor movements had found many American adherents.
These social and political passions were further fueled by the influx of German and Russian Jews into New York during the period, many fiercely committed to labor reform, anarchism, or socialism and early converts to the new psychology movement inspired by Freud and Jung. The arts were now influenced by the work of the French avant-garde led by Alfred Jarry, Henri Rousseau, and Guillaume Apollinaire, so beautifully depicted in Roger Shattuck's Banquet Years.
However, America's bohemian movement was both more inclusive as to one's class, religious adherence, or ethnicity and more directed to establishing a new "American" definition of democratic socialism and an "American" voice and style in literature, theater, and painting. These would be unique because by 1900 America was the only great nation without a state religion and already had the most polyglot population.
America was a new nation in search of an identity separate from its European origin. As Henry Adams observed in his Education, many Americans were becoming appalled by the gigantic and brutal forces that post–Civil War capitalists like Rockefeller, Frick, and Morgan had loosed on both the landscape and its formerly independent agricultural and skilled workforce. The mines, the blast furnaces, the textile mills, and the factory production lines, lampooned in Chaplin's Modern Times, had already stripped much of the country of its forests, polluted its rivers, and resettled its laborers in squalid tenements and tent camps.
These "captains of industry" had seized control of state legislatures, and finally Congress, by such unabashed bribery that two of the most powerful states, New York and Pennsylvania, moved their capitals in a futile attempt to escape the stranglehold of corrupt political machines like New York City's Tammany Hall. "Fighting Bob" La Follette, who was first Wisconsin's congressman, then governor, and finally senator from 1906 to 1925, joined Teddy Roosevelt's progressive wing of the Republican Party in opposition to these "bosses" and "vast corporate combinations." TR had helped lead the progressive Republicans to victory in 1900 under his Square Deal for labor policy (later to be transformed by his cousin FDR into the New Deal).
Social reform was a major goal for many bohemians deeply influenced by Jane Addams's Hull House home for desperate women and Jacob Riis's daring exposé of the plight of the poor, How the Other Half Lives, particularly for the many young women who had come to the Village to work in its poorer tenements and schools, which housed Irish, Italian, and Jewish immigrants. Many marched with their hero Eugene V. Debs, the leader of the Socialist Party, whose motto was "The class which has the power to rob upon a large scale has also the power to control the government and legalize their robbery."
The original Greenwich Village community of artists, writers, and activists centered on Washington Square, where Fifth Avenue ended at Stanford White's new towering arch. Some resided in well-maintained brick houses like 61 Washington Square, nicknamed the House of Genius due to the brilliance of its inhabitants, including Willa Cather, Stephen Crane, and Theodore Dreiser. While a group referred to by the conservative press as "the muckrakers," the new socialist writers and organizers Emma Goldman, Frank Norris, Upton Sinclair, Jack London, John Reed, and Lincoln Steffens, packed into cheap boardinghouses. A few, like Mabel Dodge, lived in rather grand town houses, but none dared live above Fourteenth Street and claim to be a bohemian.
The club's members embodied its motto: "A Meeting Place for Those Interested in New Ideas." Many divided their time between New York and Provincetown.
Dodge, an heiress from Buffalo, was in her early thirties when she arrived in New York in 1912 and established herself as a patron of the arts. After a decade in France and Italy, now divorced with a young son, she had through pure force of personality attracted bohemia's leaders to her new Village salon. Her young friend Max Eastman wrote of her,"She has neither wit nor beauty, nor is she vivacious or lively-minded or entertaining. She is comely and good-natured, and when she says something, it is sincere and sagacious, but for the most part she sits like a lump, and says nothing."
In her fabulous house at 23 Fifth Avenue, complete with polar bear rugs, Venetian chandeliers, and an English butler, she entertained lavishly, not just for her social peers but for almost any person of intellect or talent.
With the encouragement of dedicated radicals Lincoln Steffens and Hutchins "Hutch" Hapgood, Mabel began to host Wednesday evening discussions based on themes she proposed. Many of these "Radical Evenings" included provocative featured guests. The Jewish radical immigrants Emma Goldman, Alexander Berkman, and Ben Reitman (both lovers of Goldman's) came to discuss anarchism and violent revolution; the radical leaders of labor strikes "Big Bill" Haywood, Carlo Tresca, and his lover Elizabeth Gurley Flynn spoke on their new union, the Industrial Workers of the World (IWW), and a worker's right to sabotage or strike; and the radical writers William English Walling, Walter Lippmann, and Hutch Hapgood talked of the Socialist Party leader Eugene Debs and socialism. When these often-violent discussions reached midnight, Dodge's butler threw open the dining room doors to a vast Victorian repast (which was often the sole good meal of the poorer attendees).
John Reed, who was to become the hero of both Villages, was born to a well-off lumber family in Portland, Oregon, on October 22, 1887. In 1906, at his father's insistence, he gained admission to Harvard, where he was a football cheerleader, swimmer, member of The Harvard Lampoon, and president of the Glee Club.
Among his classmates were T. S. Eliot and others who became lifelong friends, including Walter Lippmann, Van Wyck Brooks, the stage designer and producer Robert Edmond "Bobby" Jones, and the poet Alan Seeger. Charles Townsend Copeland, or "Copey," became his English professor and mentor and, sensing Reed's poetical romanticism, urged Reed to go to Europe upon graduation to capture the spirit of Villon and Byron. Reed was a force of nature: tireless, broad shouldered, tall, with a head of tousled brown hair that fell over his high forehead. Although his face was somewhat oddly proportioned, women found him fascinating, as did men. With his enormous energy, curiosity, and growing writing skills, he was becoming a leading figure in both Villages from 1911 to 1919.
Reed began sharing rooms on Washington Square with his mentor and muckraking hero, the forty-four-year-old Lincoln Steffens, whose wife had recently died. Their rooms cost thirty dollars a month with a bathtub on a platform in the kitchen and a "juke," or outside toilet. Of their tenement Reed wrote,
Inglorious Miltons by the score,—
Mute Wagners,—Rembrandts, ten or more,—
And Rodins, one to every floor.
In short, those unknown men of genius
Who dwell in third-floor-rears, gangreneous,
Reft of their rightful heritage
By a commercial, soulless age.
Unwept, I might add,—and unsung,
Insolvent, but entirely young.
A Harvard classmate described him thus: "Even as an undergraduate, he betrayed what many people believed to be the central passion of his life, an inordinate desire to be arrested."
Bill and Lucy L'Engle knew just about everybody in Greenwich Village and in Provincetown. William J. L'Engle Jr. came from a wealthy and distinguished Florida family. He graduated from Yale in 1906, having studied architecture, but more important having become a skilled draftsman. Leaving the Art Students League for France, he studied at the Académie Julian and traveled to Spain in 1910 with the lawyer turned painter George Biddle and Waldo Peirce, the towering former Harvard football captain and painter who later became a lifelong friend and role model for Hemingway.
L'Engle had met Lucy Brown, or "Brownie" as she was known to friends, at the Académie Julian and married her in 1914. Lucy had already visited Provincetown in 1909 to study with Charles Hawthorne at his new painting school. The couple lived mainly in Paris until 1915, when the war threatened the city. They had two girls, Madeleine and Camille, or "Cammie." Upon their return in 1917 they began to spend every summer in Provincetown.
Many of their New York friends also spent the winters in New York and summers in Provincetown, but Greenwich Village was the hub on that wheel, and by 1910 its character was almost set. Large groups of restless, young, well-educated men and women from the East Coast and the Midwest and others from more distant parts had assembled in Greenwich Village to explore building a free, progressive socialist society dedicated to equality and "comradeship" and the uninhibited search for a fresh creative standard in the arts. One was most likely to encounter these early bohemians at the Liberal Club, in the heart of the Village.
The club had been founded in 1912 by Percy Grand and Lincoln Steffens to advance women's rights, but its women members were not convinced these founding males really grasped what women wanted. Henrietta Rodman, a radical feminist member and high school teacher, believed in "free love" for all women, married or unmarried, and had become a magnet for young women who modeled themselves on her, both in her dress (loose hair and bright-colored clothes, long earrings, sandals, and cigarettes!) and in her causes: Margaret Sanger's birth control movement and women's suffrage.
In 1913, Rodman tore the club apart after she encouraged an affair between a young unmarried girl and a married club member and then led a protest when the club refused to elect Emma Goldman and W. E. B. Du Bois as members. Du Bois, one of Harvard's first Black graduates, and the first Black man to earn a PhD at the school, had come from Atlanta to help edit William English Walling's NAACP magazine The Crisis. Goldman—plain, short, and fierce with her white shirtwaists and steel-rimmed glasses (John Dos Passos later described her at their first meeting in 1917 at the Hotel Brevoort as "a Bronxy fattish little old woman who looks like a rather good cook"—had become an early feminist and labor organizer, influenced by the powerful International Ladies' Garment Workers' Union (ILGWU), in which, as a poor immigrant, she had first found work.
Nineteen-thirteen was a tumultuous year for Goldman, Rodman, the birth control advocate Margaret Sanger, the Provincetown-based fiction writer Mary Heaton Vorse, and their women "comrades" who participated in the largest women's suffrage march Washington had yet seen on March 3, the day before President Wilson's inauguration (he hid in the White House). More than a hundred of the five thousand marchers were injured by hostile crowd members and police. The artists wore pink; the writers wore white. They were led by the beautiful feminist Inez Milholland, wearing a crown and long white robe and riding on a white horse.
Milholland was a Vassar graduate as well as a practicing labor lawyer who married Eugen Boissevain, who was later to marry her fellow Vassar graduate Edna St. Vincent Millay.
Rodman's adherents, both male and female, moved the club into rooms at 137 MacDougal Street above Polly's Restaurant, with its plain entryway and paintings by club members hung on the bright orange and yellow walls.
Polly's had been started by Paula Holladay, a tall redhead from Evanston, Illinois, with her older lover and fellow anarchist, Hippolyte Havel, who came complete with spectacles, goatee, and Nietzsche mustache. Polly was a gifted cook, and her food, prices, and affinity for radicals gradually made Polly's the bohemians' restaurant of choice. Havel had been arrested for anarchist activity in both Europe and the United States and ridiculed diners he viewed as bourgeois. He always reserved a table and bench, meals always free, for his fellow anarchist heroes Emma Goldman and her lover Alexander Berkman. It was Havel who declared, "Greenwich Village is a state of mind; it has no boundaries." Polly and Hippolyte often kept the restaurant open all night for dancing and exhibits of new works by modernist and cubist painters. They moved the restaurant to Provincetown in the summers.
The upstairs space, now occupied by the "new" Liberal Club, consisted of two large parlors, a sunroom with a large fireplace, and stairs that led to a garden and the privy behind the building. The front room became the choice for meetings and in the evenings for dancing. Friday night was the major night for dancing the turkey trot, grizzly bear, tango, and shimmy to the club's Victrola. The club also became notorious for its annual costume ball: the Blaze and the Pagan Rout, held at nearby Webster Hall. "Notorious" was exactly how these artists wanted to be seen.
The club's members embodied its motto: "A Meeting Place for Those Interested in New Ideas." Many divided their time between New York and Provincetown, such as the handsome Village "tramp" (so named for his vagabond years trekking by boxcar across the country), poet, boxer, and ladies' man Harry Kemp; the socialist labor writer Mary Heaton Vorse; William English Walling and his wife, the Russian-born socialist Anna Strunsky; Hutch Hapgood and his wife, Neith Boyce; John Reed; Max Eastman (a recent Williams College graduate and now editor in chief of The Masses), nicknamed the Sleepy Adonis, and his new wife, Ida Rauh (a rising actress and labor lawyer); Eugene O'Neill (already an alcoholic, having been thrown out of Princeton and become a tramp steamer deckhand); the Harvard graduate and rising critic Gilbert Seldes; the Village bookstore owner Frank Shay; and the editors of The Masses Art Young and Floyd Dell.
The club became even more popular when it arranged to create a passage into the neighboring building where the brothers Albert and Charles Boni's Washington Square Bookshop was located. The Bonis had established the store with money their father unwisely gave them to attend Harvard Law School.
Unfortunately, members with no money "borrowed" the books and took them back into the club to read. Their store never made a profit until it moved to Eighth Street with the assistance of the curly-red-haired Frank Shay (with temper to match), who was soon to open a bookstore of his own on Christopher Street and start a small publishing imprint, the first to publish another certain redhead, the beguiling Edna St. Vincent Millay, whom her first lover, Floyd Dell, described as "a New England nun; a chorus girl on a holiday; the Botticelli Venus."
Within the Liberal Club existed a much more exclusive group, the Heterodoxy Club, founded in 1912 and limited to twenty-five women. It met every other Saturday until 1940. They adopted the Greek word for equality, "heterodoxy," and its members included straights and lesbians, whites and Blacks, Protestants, Catholics, and Jews. Many of its leading members were "Two Villagers," Mary Heaton Vorse, the playwright Susan Glaspell, the labor lawyers Ida Rauh and Crystal Eastman, and Mabel Dodge. They adopted the feminist/suffrage goals of Inez Milholland and Henrietta Rodman but also those of radical labor leaders like their fellow member Helen Gurley Flynn, later a founder of the Communist Party of the United States of America (CPUSA).
The Heterodoxy Club was an extremely strong bond for its members and is often mentioned in its members' diaries and letters.
MacDougal Street's bohemian "pleasure dome" became an even greater attraction when the Provincetown Players moved in 1916 from Mary Heaton Vorse's Lewis Wharf in Provincetown to 139 MacDougal Street, next to Polly's Restaurant and the Liberal Club. The transition between the Liberal Club's amateur plays and the Provincetown Players' sophistication attracted new gifted bohemians. When any of the bohemians had money, they would follow an admonition of the modernist painter and heavy drinker Niles Spencer, "Let's resort to the Brevoort," their favorite hotel and restaurant, located at Ninth Street and Fifth Avenue, or its equally popular rival the Hotel Lafayette at University Place and Ninth Street, with its faux French bar and outdoor tables.
The young Floyd Dell had moved to the Village from Chicago to join his two oldest friends, the writers George Cram "Jig" Cook and his new wife, Susan Glaspell. The pair had met in Davenport, Iowa, where Cook's family was prominent and where he retreated after Harvard and a teaching stint at Stanford. The Cook estate, called the Cabin, was actually large, complete with butler and liveried footmen. Dell was smitten at first exposure to the Village and traded in his detachable collar and tie for a flannel shirt. Of the Village he wrote,
Where now the tide of traffic beats,
There was a maze of crooked streets;
The noisy waves of enterprise,
Swift-hurrying to their destinies,
Swept past this island paradise:
Here life went to a gentler pace,
And dreams and dreamers found a place.
__________________________________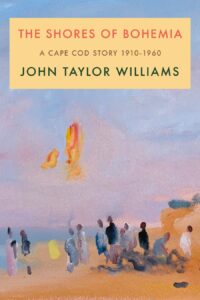 Excerpted from THE SHORES OF BOHEMIA: A Cape Cod Story, 1910-1960 by John Taylor Williams. Published by Farrar, Straus and Giroux. Copyright © 2022 by John Taylor Williams. All rights reserved.